Dorchester Towers Condo Market Report 155 West 68th Street New York NY 10023 Dorchester Towers Condo 2014 Year in Review
2014 was a strong year for sales at the Dorchester.
Sales volume more than doubled compared to 2013 with Eleven (11) Apartments sold and closed in 2014, with a few additional off market sales as well. The momentum of rising prices and low levels of inventory in 2013 carried over into 2014, where we saw very strong price increases with closed prices for many units hitting new levels. We believe that the combination of building improvements along with the robust Manhattan condominium market provide an excellent time for sellers to put their apartments on the market for sale.
In 2014 the sales market at Dorchester Towers was dominated by smaller units – a role reversal from 2013 when we did not have any one bedrooms come on the market for sale and just one studio sold.  In 2014 the mix of apartments there were three studios, three one bedrooms, four Junior 4 (Convertible two bedroom) and
one large three bedroom/three bathroom combination apartment. 
Some of the trends we saw while we actively marketed and sold at the Dorchester in 2014 were new price levels for studios and one bedrooms, big turnouts at the first open houses for Junior-4 (Convertible two bedroom) apartments, premium prices for move in condition and newly renovated apartments and buyers  continue to love the lobby and addition of the fitness room in the building.
With that being said, let's review individual segments of the Dorchester Towers Sales Market and keep in mind we did not factor in the off-market sales into this report, but if you would like to know what those units sold for as well, feel free to reach out to us.
Studio/Junior One Bedrooms at Dorchester Towers:
Three studios/Junior one units sold in 2014, an increase from 2013 where just one came on the market.
The studio market is always a bit tricky for people to evaluate pricing because of the various layouts and
sizes of the studio apartments.  There are over 10 different layouts for studios in the building, ranging in size from 530 sq ft up to 780 sq ft.  As a general rule, the L-Shaped alcove studio layouts that can be converted to what is commonly known as a junior-one Bedroom tend to sell with the highest price per square foot because of the inherent value of creating a small one bedroom apartment.  Studio apartments did quite well in terms of reaching new price levels in 2014.
We tracked two Studios, in what we would describe fall into the oversized category in the building (780 and 748 sq ft) sell for $855,000 and $775,000.  Looking at those on a price per square foot basis, it does not appear to be very impressive just $1,096 and $1,036, but looking at the overall prices achieved, they are very strong. And a third studio, an alcove studio that was converted into a Junior-One bedroom on the 21st floor with an open Southern exposure sold for $835,000, at $1,432 sq/ft!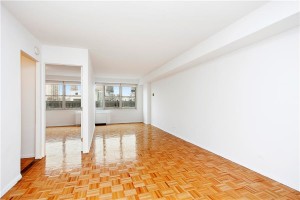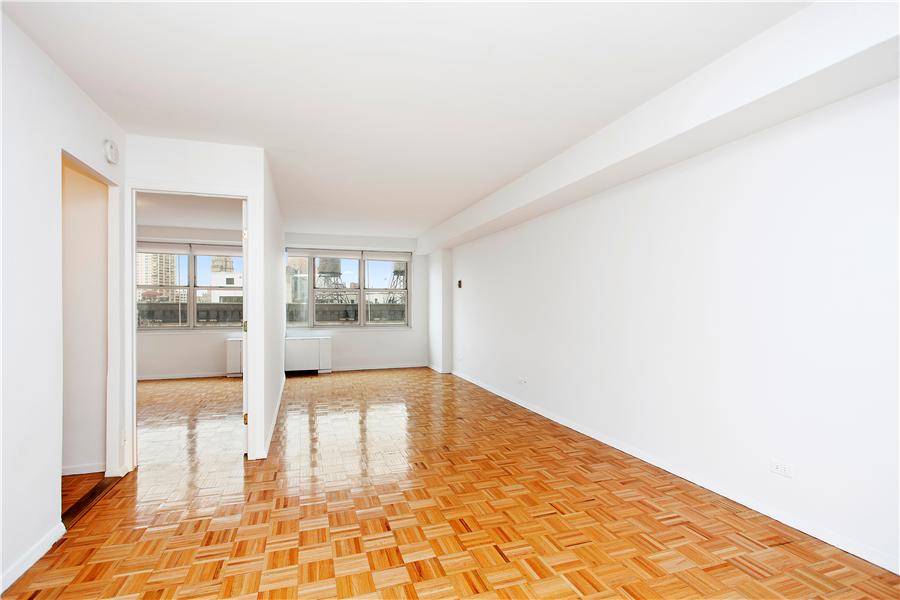 Let's put these sales into a past context, in 2013 with just a small sample size of one alcove studio selling for $709,000, which on a per square foot basis come out to $1,176 and looking back even further into what we would describe as the bottom of the market in 2010 and 2011 the average price for a studio was right around $575,000 and selling at just over $1,000 sq/ft.
The conclusion is that the sales market for studios in the building is very segmented.  To compare alcove studios, oversized studios, converted junior-one bedrooms as a whole can be very confusing.
From our experience with selling and renting multiple units in the building, we are extremely familiar with each different layout and layouts of its kind within the building, as well as the typical buyers reaction to each unique layout. We highly encourage studio owners to reach out to us to determine the market value of their apartment. You can send us an email to (Morgan.Evans@elliman.com)
| | | | | | |
| --- | --- | --- | --- | --- | --- |
| | 2014 | 2013 | 2012 | 2011 | 2010 |
| Number of Units Sold | 3 |        1 | 0 | 6 | 1 |
| Average Price | $821,666 | $709,000 | 0 | $587,965 | $560,000 |
| Average Price/Square Foot | $1,188 | $1,176 | 0 | $1,008 | $1,025 |
One Bedroom at Dorchester Towers:
In 2014, there were three one (1)bedroom units came on the market for sale. Previously and consequentially important in 2013, we did not see any one bedrooms come on the market in the building for sale, with that being said, we would conclude that there is a pent up demand for one bedroom units. 
In last year's market report we made the following statement about the One Bedroom market and now let's take a look at what actually happened:
"Are all One Bedrooms going to sell for over $1,300 sq/ft or $1,200 sq/ft now?"
| | | | | | |
| --- | --- | --- | --- | --- | --- |
| | 2014 | 2013 | 2012 | 2011 | 2010 |
| Number of Units Sold |    3 | 0 | 1 | 6 | 3 |
| Average Price | $868,333 |     0 | $585,000 | $667,500 | $646,833 |
| Average Price/Square Foot | $1,363 |     0 | $1,025 | $1,064 | $1,030 |
We had the opportunity to bring two of the three one Bedrooms on the market last year.  The first one bedroom, #927, was a Broadway facing, in what we would describe as a well maintained but not a recently renovated condition.  We listed the #927 for sale for $899,000 and had multiple offers and ended up closing over the asking price at $910,000.  A definite RECORD PRICE for a standard one bedroom in the building. 
We also saw an Amsterdam facing one bedroom on the 8th Floor, marketed as renovated, seeing the unit in person, the unit was a bit quirky, come on the market with an asking price of $945,000! After two weeks on the market, the price was reduced to $900,000. It ended up closing for $875,000.  It was an aggressive original asking price, but ended up selling at a very strong figure.  The other on-market one bedroom that sold in 2014 was a short sale, meaning that the sale was contingent on bank approval, a specialized sale.  We represented that unit and it closed right before the end of 2014.
Looking forward and answering that question we asked back in last year's market report, we would say yes, most one bedrooms will be selling for well over $1,300 sq/ft.  There is a lot of demand for a one bedroom condominium in the Lincoln Square neighborhood, with very little inventory.  Naturally, if a low floor or original condition apartment is for sale, it is not going to sell for the premium that a move-in condition or renovated apartment will command, but overall it's a very in-demand segment of the market.
Junior Four (One Bedroom with Dining Alcove) at Dorchester Towers:
The Junior 4 (Convertible two bedroom) market continues to be one of the most popular layouts in the Building.  The main reason is that it fits a desirable segment of the market which are those buyers who want that second bedroom and possible second half bathroom but typically do not have or do not want to spend the money it takes to buy a true two bedroom/two bathroom because it's a very big jump to that apartment size.
The Junior 4 (Convertible two bedroom) category in the building is much like the studio segment of the market in the sense that there are many different layouts and configurations and pricing will vary specifically depending on those layout differences.  There are over a dozen different layouts in the building for these types of apartments.  Like we previously mentioned but important to mention again, the apartments that have the extra half bathroom are a difference maker, and the easier it is to convert the additional bedroom will impact pricing.  From our selling and renting multiple units in the building, we are extremely familiar with each different layout and its like kind layouts within Dorchester, we highly encourage condo owners to reach out to us to determine the market value of the Dorchester unit.
At the beginning of 2014, we brought on market unit #12-04, a Junior 4 unit for sale in its original condition.
We marketed aggressively and we had multiple strong offers within the first week of showing with a massive open house turnout over 100 visitors. The unit went into contract above the $995,000 asking price and closed for $1,015,000. We also sold another original condition Convertible Two Bedroom on the 14th Floor, for $1,100,000 later on in the year.
Two Junior-4 apartments both having 1.5 bathrooms sold for $1,200,000 and $1,280,000 respectively.  The more expensive of the two was on a high floor in a very nicely renovated condition, reflective in the high price it achieved.
This was a good year showing the difference in value that renovations and that an extra half bathroom can have in the final value for this segment of the market.  The demand is healthy for this segment of the market, a lot of the demand is coming from people who have outgrown their studios or one bedrooms, and foresee or demand the need for that second bedroom that this type of apartment provides.  This is definitely a segment that we can help in how to price effectively and market correctly to most benefit a Dorchester Tower seller.
| | | | | | |
| --- | --- | --- | --- | --- | --- |
| | 2014 | 2011 | 2012 | 2011 | 2010 |
| Number of Units Sold | 4 | 1 | 3 | 6 | 3 |
| Average Price | $1,148,750 | $1,300,000 | $1,061,333 | $953,333 | $920,000 |
| Average Price/Square Foot | $1,302 | $1,296 | $1,180 | $1,038 | $1,034 |
Two Bedrooms at Dorchester Towers:
Unlike 2013, where two bedrooms were the most active segment of the market, we did not see any two bedrooms come on the market for sale in 2014.  But that does not mean that there was not a demand for them.  We received many calls throughout the year from move-up buyers who currently want to buy a two bedroom and wanted to know if we knew of anybody interested in selling, unfortunately the supply just wasn't available.  Two bedrooms units are rare in the Dorchester Towers, mostly found in the Tower portion of the building starting from the 22nd floor and higher floor.  Many of those larger units are owned by the management, making it even harder to acquire one of these coveted apartments.
The overall market demand for two bedroom condominiums is quite strong, much of the new condominium products being built are for larger units, and many with the starting prices for new construction at $2,500 sq/ft,
it makes buying a two bedroom units that much more difficult.
If you do own a two bedroom and are interested in the present value of your Dorchester Towers Condo,
give us a call (917)837-8869 and we would be happy to provide you with a current market evaluation.
| | | | | | |
| --- | --- | --- | --- | --- | --- |
| | 2014 | 2013 | 2012 | 2011 | 2010 |
| Number of Units Sold | 0 | 3 | 2 | 1 | 0 |
| Average Price | 0 | $1,728,000 | $1,392,500 |    $1,160,000 | 0 |
| Average Price/Square Foot | 0 | $1,495 | $1089 | $988 | 0 |
Three Bedroom / Three Bathroom at the Dorchester Towers:
A very rare three bedroom and three bathroom apartment came on the market for sale in 2014.  This was a combination unit, combining a two bedroom/two bathroom unit with a standard one bedroom unit, with a total combined size of around 1900 sq ft.  It is a very large unit indeed for this building.  A unique sale with unique pricing, coming on the market asking $3,100,000 and closed for $3,426,000. On a price per square foot basis, this closed for about $1,800 sq/ft, which falls into a market price for what similar sized Three Bedroom condos are selling for in the neighborhood.
Dorchester Towers Condo Market Report Conclusions for 2014:
Prices went up significantly across all types of apartments in the building. With sales volume doubling within the building and pricing increasing at the same time in 2014 creates a very healthy environment for sellers.
We saw a run up in pricing in the Manhattan condominium market with a lot of buyers developing a certain level of "buyer fatigue" by the end of year-Going to multiple open houses and entering bidding wars to lose out time and time again.  Most indicators point to a strong market in 2015 but not as frenzied as in 2014.  The inventory levels are still historically very low, we see strong demand from cash buyers and interest rates are historically low as well creating that much more affordability.
Something else we found important was that in 2014, when the lobby renovation was 100% complete and the gym was 100% operational, buyers had a much better impression of the building than in years past and were more comfortable paying competitive pricing for the Dorchester condo units. With the hallway renovation still in planning stages but scheduled to take place, it positions Dorchester Towers condo to compete with neighborhood condominiums that much better.
We are Morgan Evans and Eileen Hsu, residents of the Dorchester Towers and we the consistent top selling Real Estate agents for the Dorchester Towers Condominium. We have the most thorough  track-record of results of any sales team, and we sell Dorchester for the best price and fastest compare to any other agent.
If you are an owner and are thinking of selling or renting your Dorchester Tower condo unit, Contact us for a confidential discussion of your Dorchester condo unit at (917) 837-8869. Or email us at Morgan.Evans@elliman.com or EHSU@elliman.com